Membership
New memberships & Renewals are accepted Only from January 1 to March 31.
*** Deadline (was) Friday, March 31 ***
Single membership is still Only $15.00 for an individual (18 and over),
Family membership is $25.00 (parents plus dependents under age 18).
U.S. Mail address:
Lake George Gem & Mineral Club
P.O. Box 171
Lake George, Colorado 80827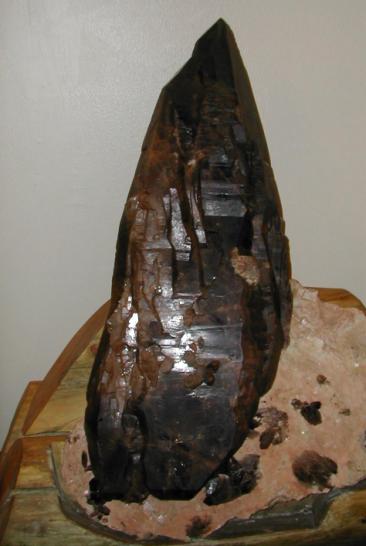 On This is the largest smoky quartz crystal
by weight and volume ever discovered in the North America !
It is over 4 feet long, weighing nearly 440 pounds!
(discovered by Mr. Richard W. Fretterd, 02/02/2002,
Holy Moses pocket, Godsend claim, Teller County Colorado)
This remarkable specimen will stay in Teller County forever!
Thanks to Rich and The CC&V Gold Mining Co.
It is located at the Pikes Peak Historical Museum in nearby Florissant
-John Rakowski photo